Violins, Violas, Cellos
We specialize in all sizes of violins, violas and cellos. Our sales and rentals are backed by our world class workshop.
Learning to play a new instrument is a challenging endeavor. Quality instruments with the correct setup will make a substantial difference in a beginner's ability to develop strong fundamental technique. Set-up includes planing the fingerboard, fitting the pegs, acoustically cutting the bridge, fitting the sound post, and installing top quality strings on a Whittner tailpiece that has four built-in fine tuners.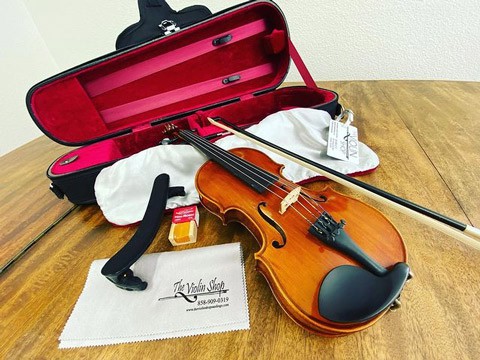 Step 2
Schedule an appointment:
Call to schedule an appointment with our knowledgeable staff to ensure the best size fitting
Phone: 858-909-0319
Step 3
Watch our video:
Watch our video on instrument care and maintenance. Enjoy your instrument!